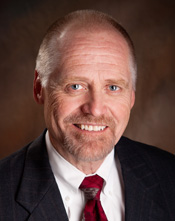 The RENEW Board of Directors made it official at the Monday, January 28, 2012 meeting in Gillette. The board officially appointed Chris Ahlstrom as the new CEO & President of RENEW.
Chris Ahlstrom certainly is no stranger to RENEW. He has, for several years, been the organization's Chief Financial Officer and, in fact, retains that title while taking on the added responsibilities of President & CEO.
Board Chairperson Donna Bombeck acknowledges the opportunities ahead for Chris: "With Chris' proven talent and abilities, we expect RENEW to be an ever stronger voice for those with disabilities and to play an even stronger community role here in North Eastern Wyoming."
Chris' Wyoming roots run deep. Born in Sheridan, a graduate of Sheridan High and the University of Wyoming, Chris moved to Colorado where the U-Dub grad plied a CPA, advanced degrees in both Accounting and Business Administration and a satellite dish into successful at home, on-line trading in everything from pork bellies to wheat futures with a specialty in S&P contracts.
And while the quality of life in a Denver suburb sure beats life on a trading floor in Chicago or Wall Street, it did not beat Wyoming. Chris, now with wife Sandy and children, returned to Sheridan where ample bandwidth allowed Ahlstrom's acumen for finance to continue.
Twas hard to beat: an at home business in beautiful Sheridan, a loving wife, a growing and healthy family (two boys and a daughter) and some new additions to the family -- (horses and two golden retrievers).
Could it get any better? Yes ... as Chris now finds himself in a position where he can truly "make a difference".
Ahlstrom acknowledges opportunities like his don't come along every day. "I look forward to making a top notch organization even better. The need to offer quality services has never been greater and we have the folks to make it happen."

Shredding means different things to different people. To a snow or skateboarder, it means "tearing it up". At RENEW/Gillette, shredding means providing a secure shredding service for businesses that have a need for the disposal of sensitive documents. It's a great service and a win/win for everyone involved.
It was "front page/top of the fold" and "top of the telecast" news: RENEW/Sheridan's Jeff Mock, a champion of Disability Awareness Rights, was chosen by local officials to dedicate the newly completed and handicapped-accessible South Bridge in Sheridan. For more than two years Jeff attended local planning meetings and city council meetings and at each stressed the importance of handicap-accessibility. The result of Jeff's perseverance? a new bridge that offers access to more than 13 miles of handicap-accessible pathways. Sheridan Mayor Dave Kinskey asked Jeff to be the first person crossing the bridge (and Little Goose Creek underneath) and having access to those pathways and more than 50 acres of pristine parkland known as South Park.
"Jeff has led the charge for our handicapped-accessible pathway system. It only seemed fitting that he would cut the ribbon and be the first to cross the South Park Bridge at its dedication."
- Mayor Dave Kinskey, March 20, 2012
Not sure if he qualifies yet for the Guinness Book of World Records but he certainly must be a record holder in the Razor City. We're talking about Doug, a participant at RENEW, who has volunteered Monday through Friday at the Campbell County Library for the last 12 years. This IS a story worth covering so we head to the library to do so first hand research. The only problem? We gotta find Doug!