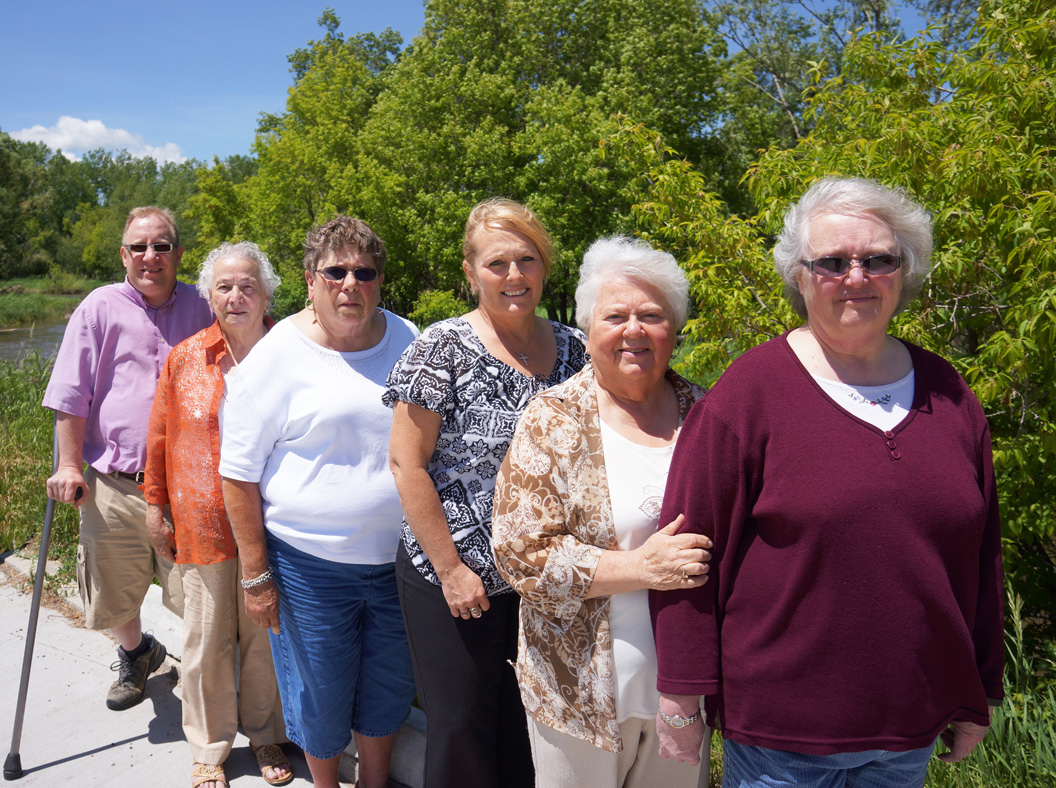 L to R: Bryan Bergstreser, Norma Appel, Carolyn Holso, Connie Frederick, Renee Nack, Donna Bombeck.
Bryan Bergstreser, Treasurer
Bryan is Wyoming through and through. He and wife Kim live in Sheridan with daughters Lauren and Kendal and son Carson. Bryan graduated from (where else?) the University of Wyoming with degrees in both Information Systems Management and Business. He's a project manager for Bylight, a professional Information Technology Company.
And Bryan's connection with RENEW? It's actually quite personal. He ws born with Cerebral Palsy and, while society certainly labels that as a disability, Bergstreser is the first to tell you, "it doesn't control me in any way."
Bryan continues, "I do indeed have a lifetime of experience of what a disability is supposd to do and how it can be overcome. I also have a passion for what I do. If I can bring my knowledge and skills in electronic technologies to RENEW, that can be a win/win for all involved."

Norma Appel
Norma is a retired rancher who has certainly "paid her dues" -- she's raised both cattle and horses on 3,000 acres in North Eastern Wyoming. She loves the Cowboy State because of its peace and quiet, the mountains and prairies and those beautiful blue skies. Who would disagree?
Her connection to RENEW goes back more than a dozen years with service on the RENEW board and a foundation. In Norma's words, "I've always had an interest in persons with special needs; my heart has always been there."
And Appel's goal? "I want to raise people's awareness about folks with disabilities. Their wish is to become fully functional members of society. That can best be achieved with all of us recognizing the ability in disABILITY."

Carolyn Holso, Vice Chairwoman
Carolyn has been a Special Needs Educator for many years -- teaching secondary Special Ed in Kansas City, Fort Collins and, for an amazing 33 years in both Newcastle and Moorcroft.
Holso is now retired from teaching but remains active. She enjoys her volunteer work with the RENEW Board of Directors as well as more than a few hobbies: reading, quilting, gardening, traveling, bridging, camping and 4-wheeling. Did we mention that Carolyn has a dog and two cats?

Constance Frederick. Ed.S.
Constance ... OK, she's Connie to us. Connie comes to RENEW with a string of qualifications and work experience. The licensed School Psychologist has worked in the inner cities of Florida, on the reservations of North Dakota and with the Job Corps in Minot.
Connie's passion? "It's to help people with disabilities reach their potential." RENEW, we believe, has found the perfect match.

Renee Nack, Secretary
Renee grew up in Minnesota and later moved to Wyoming with her husband and children. With a Bachelor of Science degree from St. Cloud State University, she taught school in Minneapolis.Then came more education and new skills as a Learning Disabilities Specialist. Then a Master's Degree in Curriculum and Instruction with an emphasis in Special Education at Black Hills State University in Spearfish. Since then, Renee has completed the required courses to become certified as an Educational Diagnostician.
Currently Renee is an employee of Weston County School District #1 and has been since 1984. Her husband is Sr. V.P. for the First State Bank in Newcastle. They have two children.

Donna Bombeck, Chairwoman
Ms. Bombeck loves Wyoming, loves RENEW and loves all things financial -- but let's back up a little with some history. Donna was NOT born in the Cowboy State -- she hails from the State of Great Faces and Great Places. That would be South Dakota and her birthplace? Rapid City to be specific. And "specifics" are important to Donna; she has a degree in Accounting from Black Hills State University in Spearfish and is employed at First State Bank in Newcastle.
Donna's take on persons with special needs? "Everyone notices the disability to start with. Eventually we see the abilities instead of the disabilities."
And about RENEW? "They are doing a great job here in Newcastle. We have new people moving into the community though and it's important to keep spreading the word."